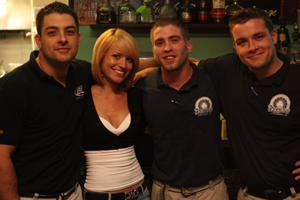 May 14th 2009 was the night everybody could not wait for! It was the night that Blackthorn (Kenilworth, NJ) would officially open their huge outdoor deck for the season. Each year, opening night sets the vibe for the summer and this party set it off!! (Be sure to check out the full photo gallery of this event)
Weather was supposed to be a VERY big concern. Almost every weather station predicted an 80-90% chance of rain.  They don't know shit!!  Other than a few drops, the weather was perfect!
As an added twist, Blackthorn's owners Gene and Eugene Gillespie made awesome business moves. They had a guest appearance from Playboy Model Victoria Stevens, they had Bongo Jack playing live drums, they brought in Steppin' Out magazine to shoot a spread and then of course they had  NJROCKSTAR.COM (us), who has been working with blackthorn consistently since 2006.
 The Night Begins:
The crowd started to fill in just after 10:30PM as usual.  At that point, there was still a big scare of rain but as people got their "drink on", that was forgotten.  After 11PM, as people at home were realizing that the weather held up, it is obvious that they made their way to "The Thorn" because the place was packed!!  It looks like all of the promotion paid off.
Playboy Model Victoria Stevens showed up around 11 and was really a big hit. She mingled with the crowd, got to know the staff, the regulars as well as other guests. Â She posed for pictures and partied the night away with her entourage. She had a really great time and really connected with the crowd. That was a very smart move on Blackthorn's part for inviting her out.
 The Music:
DJ Danny T and DJ Johnny FX really outdid themselves. DJ Johnny FX worked the mix for the crowd inside and totally had a great vibe going. DJ Johnny FX is the resident DJ indoors at Blackthorn and has really built a good base crowd. Then you have DJ Danny T, who is the summer season resident DJ on the deck. This guy dropped the BOMBS for this party. Awesome house beats all night long! 
We actually spoke with DJ Danny T prior to the event and he had explained how much planning he put into his music set for this night. The guy didn't lie, the music was off the hook and his hard work really shined thru. We really recognize how much work these guys put into their music. We think it is sometimes taken for granted by people. It is not just about setting up and playing music. These guys put in hours an hours of their personal time at home, planning their set list and mixes not to mention keeping up with the latest music.
 The crowd:
Opening night is generally always a busy night. This party certainly exceeded that! Of course you had the Blackthorn regulars but this year, there were also many new faces as well. We strongly feel that this had to do with the heavy promotion that njrockstar.com did for this event. I mean, we advertised everywhere online and offline and we did it hard! It definitely paid off and we are sure the Blackthorn staff noticed. Blackthorn management and even some of the regulars (Kevin, Cowboy, etc) also did their share of promoting this event.
What we love about Blackthorn is that they do something that they may not get enough credit for; they bring a very diverse crowd that actually gets along meanwhile keeping the party trendy. That is a very difficult task but always seems to work at Blackthorn. We feel that this is what keeps the place a popular choice for a night out. For this event, the crowd was a perfect balance.
 Conclusion:
Overall, we feel that this party was a total success. Everything went smooth and everybody in attendance had nothing short of an awesome time. In all honesty, we can't say that we saw anybody who didn't have a smile on their face. The crowd, music and staff were all great.
The bottom line is that Blackthorn consistently has a full house each and every week during their very popular Thursday night dance party, the owners obviously make smart business moves because this has been the case as far back as we can remember.
We really need to mention how great the staff is at Blackthorn. These guys (and girls) are real professionals at what they do. The bartenders are the best we've seen and are cool as hell. You wont find more sincere Bartenders anywhere in NJ and we mean that. The security staff always makes everybody feel safe and secure and the owners are nothing short of great, down to earth people.
We also need to give a special Thanks to Joe Perez who professionally shot our picture set for this event. He did an outstanding job and we feel that he has a long, successful photography career ahead of him.
 
NJROCKSTAR.COM / NJROCKSTAR, LLC hopes to continue acting as Blackthorn's web advertising and exclusive media coverage solution. Over the last 3 years we really feel that we have contributed to the success of Blackthorn's popular Thursday night Dance party.
If you haven't been to Blackthorn yet, you are really missing out. We suggest that you make your way there one night.  You won't be disappointed!
_NJROCKSTARÂ  Management