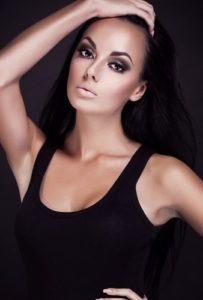 Makeup artists have been using the techniques of contouring and strobing for many years now. With IG selfies on the rise of proudly posed ladies achieving their flawless finish, adding structure and shape proves to be the top priority. Boosting volume to the lips alongside a highlighted and chiseled cheekbone relies heavily on catching the right light, proper shading, and leaving the skin with a natural, dewy 'candlelit' glow. It is all about creating an allusion and illuminating the skin with darker, bronzed pigments and a subtle shimmer formulation.
The very best in the biz apply the necessary products to the face seemingly so effortless. Tutorial after tutorial, it appears so easy, yet if you are not a pro this look can leave you less than radiant and feeling down about your inability to effectively paint on your aesthetic canvas.
From a cosmetic perspective, and as a result of lifestyle choices mixed with the aging process, one of the places where change is not only the most noticeable, but more often than not completely unwelcome, is the face. Smooth skin is the answer to youth and beauty, as well as providing a clear surface for contour application. But how can individuals who are not professionals successfully join in on the craze?
Declining muscle mass, and sagging skin, is just nature and gravity's way of reminding you that the clock is ticking- Thanks wrinkles and fine lines! The loss of this fullness among the features leads to a warn, tired appearance and zero restoration for balancing out facial form.
Although expert makeup tips and tricks may do wonders, average females can't work miracles. In the past, the only way to go about respecting skin solutions was through invasive surgical procedures, with inherent risks and extended recovery times. Injectable treatment alternatives now offer long-lasting improvements with immediate visibility- all without resorting to the knife.
The modern way to contour and smooth out folds while revitalizing a youthful plumpness to the areas like the lips and upper cheeks is filling in with fillers. Known to the mass public as "lunch-time" procedures, benefits include quick 30 minute, safe and painless care and attention. The effects aim subtle and natural. A realistic expectation will be assessed with top-industry certified technicians like at NYC's best kept beauty secret, Lucy Peters Aesthetic Center.

Contour Facial Fillers are suitable for: 
Adding volume to lessen the signs of aging, especially in the cheeks and around the mouth
Creating a more defined facial contour
Rejuvenating facial symmetry
Correcting superficial lines and moderate wrinkles
Polish deeper creases and folds, such as forehead grooves and nose-to-mouth (nasolabial) laugh lines.
Cheek and facial contouring with fillers are the latest trend to sweep social media (you know, when filters fail, why not go for fillers?). Fillers are in popular demand for a wide variety of reasons. Lucy Peters Aesthetic Center specializes in smooth skin solutions by using a broad spectrum of fillers to alleviate these structural facial concerns. Most fillers are made of hyaluronic acid, which is a substance that naturally develops from within to formulate a youth serum.
The contouring craze has now been kicked up a notch from makeup brushes to injections. A topical anesthetic is used to slightly numb the targeted area prior to treatment. Occasion contour irregularities may occur, but only basic swelling, tenderness and possible redness which will subside within hours. The gel fillers will introduce volume and smooth out the skin. Results are not only instant, but the new contour lift will leave your face ready to be revealed to the world. Presentation is key. You will no longer feel the pressure to go on YouTube in a vain attempt to discover your inner makeup artist. A youthful and beautiful contour awaits.