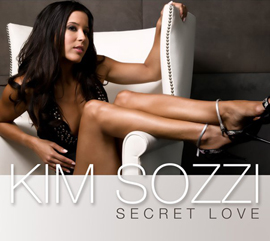 The very talented, New York native singer & songwriter Kim Sozzi, tops herself yet again, with another hit! This time we are referring to the release of remixes to her recently released song called "Secret Love", which was initially included on Kim's debut album. The remixes are sure to be a big favorite with radio stations and DJ's nationwide.
Kim has been a favorite artist of The NJRMG (The New Jersey Rockstar Media Group) since our network was in its infancy (going back to 2006).
We were fortunate enough to shoot some exclusive raw video footage (shot from the stage) from an earlier live performance of Kim singing this particular track. It was over at Club Rise in Lodi, NJ. (Big shout out to Antwan for shooting the footage).  You can see the live performance on YouTube (Link). We feel that Kim really nailed it that night.  Although our clip was short, if you listen to it, you will agree that her voice couldn't be more on the money. Especially when compared to the newly released remixes. This is a perfect example of how one identifies real talent. During that past performance, we knew it was a matter of time before this track took off. Looks like we were right!
Several remixes of the song have been released by Kim's label and are available for purchase  thru ITunes (Link).  Our favorite, of the remixes, was also put up on YouTube (Link).
For our readers who are not familiar with the music of Kim Sozzi, we suggest checking out her website (Link) for all of her general info/news.  Also, be sure to purchase these remixes from ITunes".
We applaud Kim Sozzi for her much deserved success. As she releases more material, The NJRMG will be sure to bring all of our readers the highlights.
—-
Dan
-The NJRMG