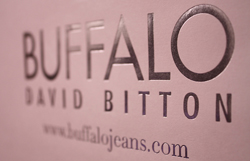 Ahh, the spring and summer season is on the way once again and with that, comes the seasonal fashion statements of the year. NJ has always been a state that is full of younger folks who follow the latest trends for the most part. I mean, let's face it, if you are living out in Nebraska somewhere, your not going to be as conscious about what you are wearing as you would be if you are 20 minutes from NYC correct? We are right there, in the middle of the action. New Jersey is full of hot spots (clubs, venues, etc) where people in their 20s and 30s like to show off their fashion statement.
We think it is safe to say that the phase of wearing phrase t-shirts is finally over (Thank GOD ). Shirts like "Got Milf" and so on.
So what do we think will be hot this season? Well let us provide our prediction and opinion.
For the guys, you will not go wrong wearing nice fitting T-shirts on those warm spring and summer nights. Not the muscle type which puts you back into the Guido era (gag) but designer t's that have a nice cut.  You can't go wrong with whites or with a dramatic color like red, blue or even yellow.  Don't go too crazy with the designs on the shirt. If it has a design on front and back, pass up the purchase.  The president of njrockstar.com (Dan) prefers Guess brand t-shirts and sometimes Buffalo. Diesel is also good but you should try it on first!  Diesel can run quite tight and no, you don't have to be a juice-head to wear Diesel. Get the next size up from what you are used to and you will look fine.
The dressed up look is out of style for the spring and summer months. You will make much more of a statement if you are wearing a really nice pair of jeans and a phat , clean t-shirt.
For the jeans, we strongly suggest buffalo brand by far. They always have a good fit; they are rugged, straight legged for the most part and always in style. Guess brand is also good but for you shorter guys, unfortunately, they are usually always 33 long by default. Nothing a tailor can't fix though.
As far as sneakers go, you cannot go wrong with Nike Air Max. Yes, they are more pricy but they last a very long time if you don't abuse them.
Now you ladies out there, we are not going to try to suggest style since this is being written by a guy. You all know what to do. Work you magic. Summer dresses are always a hit. So are nice fitting jeans and of course guys love heels for those night events!  Just don't over dress when you are going to the friggin' Jersey shore.
Overall, we feel that this season will be more of a "dressed down" season. You can do this and still make your mark.
These are just a few of our opinions and predictions for the spring and summer 2009 season.
Ladies and Gents, feel free to comment on this article and leave your input, advice, opinion, etc. We would love to hear from you!
_ NJROCKSTAR, LLC Management