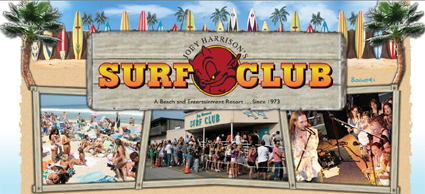 One of the summer hotspots that njrockstar.com suggests checking out is the landmark Joey Harrison's Surf Club. Located right on the sand in Ortley Beach NJ, Surf Club has been around as long as we can remember. If you are 21 or older, we strongly suggest stopping by there on a Sunday around 5 pm or so. Of course, plan to wait in a line, because their Sunday party has become the "sure thing" if you want to listen to live music from the hottest DJ's around (both local and international). It is a very trendy scene on Sundays where you will find the hottest crowds who flock from as far as 50 miles or more from all directions just to be at this party. Be prepared, it can get very crowded in there but, it is certainly worth a trip. Surf Club Sundays is a NJROCKSTAR.COM favorite.
Joey Harrison's Surf Club
1900 Ocean Ave.
Ortley Beach, NJ 08751
Surf Line
732.793.6625
Office
732.830.8000
Email
info@surfclubnj.com
Join the vip email list:

Here is their sick summer lineup:
May 24th
DJ CHRIS CHOOPA ON THE PATIO STAGE 12-4PM
DJ'S DENNY TSETTOS & LOUIS CORRALES MAIN STAGE 4PM -2AM
May 31st
DJ'S Damien Ford, Paul Patrick, Paul Raffaele & Lauren Lane
June 7th
The Martinez Bros
TBA
June 14th
TBA
June 21st
Patio Party
June 28th
www.djboris.com
DJ Boris
July 5th
4TH OF JULY WEEKEND
DIGGIN IN THE CRATES
DJ RICHIE SANTANA "CLASSICS"
July 12th
GREY GOOSE * DEWARS 12 * BACARDI PARTY featuring OSCAR G
July 19th
DJ VIBE & MARIO CALEGARI
August 9th
MIND CONTROL RICHIE SANTANA & PETER BAILEY
August 16th
TBA
August 23rd
DANNY TENAGLIA – BE YOURSELF!
August 30th
TBA
September 6th
CHUS & CEBALLOS
September 13th
SEASON CLOSING PARTY