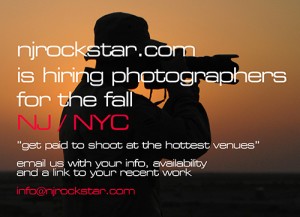 NJrockstar.com is currently looking for photographers and videographers to shoot nightlife related events for us and show off their skills!
We are a NJ licensed/registered company for over 6 years so this opportunity is perfect for photo students looking to earn college internship credits with a State Licensed Company and receive letters of recommendation. It is also a great opportunity for professional photographers and videographers looking to build their portfolio.
Requirements:
1: You must have your own, quality digital SLR camera. Full frame is a plus but not a necessity
2: You must be outgoing and feel comfortable approaching groups of girls and couples in nightclubs and and/or at events.
3: You must be willing to shoot in a nightlife environment
4: You must be will to shoot at night and/or weekends
5: You must have the knowledge to transfer photo files to our servers via ftp,dropbox,etc or be willing to learn these simple programs to transfer the images and/or videos to us
**It is a big plus if you have connections in the nightlife industry and know the scene. Have a particular club or venue where you already like to shoot at? Great! We want to hear about it.
This is not a full time position. It is a piecework position and is very flexible. What we really need is 50-60 good shots and/or a few mins of good, raw HD video from a given event/nightclub/Etc. You can shoot it in an hour or take the whole night to compose them. It is up to you.
If you would like more details and/or have questions, feel free to visit our contact page.
**For immediate consideration: please include links to samples of your current work, rates, gear, etc. Also include details of any nightlife related affiliations that you have in NJ.