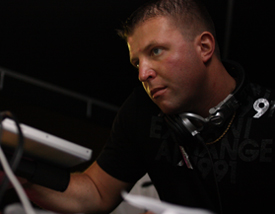 Recently, The NJRMG had a chance to sit down and speak with DJ Danny T, a NJ favorite who is known for elevating the energy in any room that he mixes in. Know for his high octane dance mixes (with hints of Trance), DJ Danny T has become one hot ticket for the Summer 2010 season (and beyond) in New Jersey!  Let's see what he had to tell us:
The NJRMG: Dan, thanks for taking the time to speak with The NJRMG. As you know, you have been a favorite DJ of ours for quite some time now. I'm sure all of your current/future fans would like to know a little bit more about the man behind the music.
DJ Danny T: Hey Dan,  thank you for having me and giving me the opportunity to speak with you today.  (not to confuse anyone since we're both named Dan)
The NJRMG: So Dan, lets get started.  To begin, we have a typical question for you. How did you first begin to mix music/DJ?  When did it all start for you and why do you love it so much?
DJ Danny T: Well, I first began DJing back in 1995 for a local college radio station that covers the NJ/NY metropolitan area .  People around NY/NJ who listen to hard rock probably heard of the infamous Seton Hall University college radio station, 89.5FM WSOU.   I began there as an engineer for the station.  I slowly after a few months worked my way up to being an on air newscaster.  Then, the ultimate.   After months spent over there, many hours at all different times of the day and night(not to mention juggling schoolwork on top of that) , I became an on air DJ.  Being a DJ for this radio station during my college days was so exciting because not only did i deeply enjoy the music that was played over there,  but  I would become something I coveted since I was in the 8th grade.  It was when I was in the 8th grade that i first began listening  to this station.  Ever since then, I set a goal for myself to get accepted to Seton Hall, and work my way into getting hired by 89.5FM, WSOU.  I met a ton of different artists.  I had the opportunity to interview hard rock/metal acts such as Fear Factory, Life of Agony,  NY Hardcore band "The Cro-Mags",  E-town Concrete, God Forbid,  & Agnostic Front, Candiria, & Marilyn Manson, just to name a few.  I did all kinds of different shifts ranging from morning to afternoon drives, and late night/overnight shifts on air.  I also had a specialty radio show called "Hardcore Reality"  This show catered mostly to local NJ/NY hardcore/punk rock bands that were up and coming, as well as established acts from all over the world. This lasted until my graduation in 1999.
In January of 2000 I sought other career opportunities, and started listening to 90s house and trance music.  That bug drove me to start my own side biz in DJing in 2005.  It was in 2004 that i attended my first Winter Music Conference in Miami, Fla.  That only pushed me further to start spinnin'.   My interest only grew more and more each year.   I love it so much because I love the music.  I feel it.  When you feel something, it shows to people around you.  It becomes contagious.
-
The NJRMG:

Please describe your music style to our readers.
DJ Danny T: People can expect to hear a high energy progressive house sound with some trance elements in there.  I'm all about  hard, pulsating beats with melodic elements and vocals.  You know, MUSIC!  I'm all about starting light and turning up the heat as the night progresses.
-
The NJRMG:

Recently, you represented NJ by attending the 2010 WMC in Miami, where you were asked to mix live at Miami's famous spot "Clevelander". With the opportunity to mix for a totally new crowd of people, what was the experience like for you?  Are there any other highlights from the trip?
DJ Danny T: It was extremely exciting for me to get the opportunity to spin at a famous hot spot in Miami, or any spot  in South Beach for that matter.  It was down there that people appreciate most what I do.   Most people who attend WMC are on a different wavelength musically. Different from the mainstream/top 40 crowd.  A lot of the best tunes I've ever heard were the tunes i heard first at WMC.  While attending for 7 years in a row, I hope to attend many more.  Highlights from the trip?  Well, there are too many to name.  It was like one good thing after another.  To sum it up, the whole trip was like a dream.  When i got home, that was when i woke up.   Oh, the Pacha beach party at Hotel Gansevoort  I enjoyed immensely!
-
The NJRMG:

Are there any particular DJ's or artist out there that has helped to motivate or influence your style?
DJ Danny T: There are many.  I'd say my favorites right now that influence my style a lot are the likes of Axwell, Steve Angello, Sebastian Ingrosso.  These DJ's are all part of what's called the Swedish House Mafia.  You can find a lot of their productions and live sets all over the internet.  I also like Roger Sanchez, Carl Cox, & Paul Oakenfold.  If you want to get into some of the trance DJ's, it's safe to say Armin van Buuren, Tiesto, Above and Beyond, Matt Darey, Hybrid, Ferry Corsten and Markus Schulz are DEFINITE favorites.  These are all included but not limited to.
-
The NJRMG:

Describe a typical day in the life of DJ Danny T from a DJ standpoint.  Do you look for new music online, download it and simply start mixing it or, is the process different for you?
DJ Danny T:
I don't think there is a day that goes by where i'm not online in search of that HOT track.  It's fun when a plan comes together.  You can take one track, mix it with another (mashups) and make for a completely awesome sounding song that sounds completely different, or,  a really good transition that captures your crowd's attention.   Looking for new music online I find to be a very time consuming process.  That is what a lot of people do not realize when a DJ is trying to stay cutting edge and be on top of the latest tracks that come out.  Many think it's as simple as showing up to a gig and just start playing.  They do not see all the 'behind the scenes' work DJ's endure outside of the bar or club.   Not to mention any promotion that they are also doing on top of all that, which is also time consuming in itself.   Most people can tell a DJ that shows up to play just to get paid at the end of the night, from the DJ that really cares and is really into what he/she is doing.  Oh, then there's the "DJ's" that just straight up need to go to mixing school.
-
The NJRMG:

What is your current equipment setup?
DJ Danny T: Right now I'm using a Pioneer DJM-800 mixer, a pair of Pioneer CDJ's, along with Traktor Scratch Pro.
-
The NJRMG:

Is there any other type of music that you listen to (other than House,Dance,etc), which would probably surprise your fans?
DJ Danny T: I listen to ALMOST everything.  80s, classic rock, METAL.  Did I say METAL?  Yes.  It's what I grew up on believe it or not as previously stated in your first question.   People might find that surprising because it's a total "180″ from dance and house music.
-
The NJRMG:

Is there anything about the business that you hate?  There must be 1 thing at least.
DJ Danny T: Ohhhh let's see.  Alotta nepotism I see at some venues.  It's not about best man for the job at some of these places.  It's about who you know.  That disgusts me because there's many others out there more than qualified that are looking for spots to fill that are taken by people who call themselves "DJ's" because they know somebody.   Other than that, I can't say I hate anything else about it.  I love ALMOST everything about it!
-
The NJRMG:

Any production possibilities in the works or do you prefer straight up mixing?
DJ Danny T: Production is in the works.  I can't say exactly when I'm going to put something out.  But I'm hoping it will be sooner than later!
-
The NJRMG:

What is your summer 2010 schedule look like?  Where can people come hear you live?
DJ Danny T:
The summer of 2010 schedule you can come see me at
BIG SHOTS SPORTSBAR
in Woodbridge, NJ for LADIES NIGHT THURSDAYS.  There's NO cover charge there, and LADIES get 1/2 off all mixed drinks in the house, and $3 Heineken and Amstel bottles.  Also, on
Friday's beginning May 14th, 2010,
you can find me outside on the deck at
BLACKTHORN
in Kenilworth, NJ.  As far as any promotion or drink specials that night at BLACKTHORN, I am in the process of finding out what those specials are going to be.  As soon as I find out, I will be sure to let everyone know!
-
The NJRMG:

What is the best way for new fans to contact you/see what you are up to?  Facebook, etc?
DJ Danny T: I would say right now FACEBOOK is the best way.  Just about everyone is on there nowadays, and it's good promo!  just search "njhcman@aol.com" and my FACEBOOK profile will come up.
-
The NJRMG:

Thanks for taking the time to sit down with The NJRMG. It is always a pleasure to speak with you Dan. You are a great DJ and friend! We are sure you will continue to keep the crowd jumping with your powerful mixes and unique style.
DJ Danny T: Thank you Dan, the pleasure is all mine and thanks for having me.
-
The NJRMG will continue to bring our readers full media coverage from DJ Danny T events throughout the 2010 summer season,  so stay tuned!