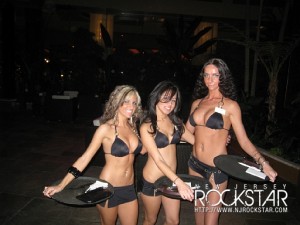 The Pool @ Harrah's Hotel/Casino in Atlantic City, NJ has gained much popularity over the last 2 years not only as a swimming area but a nightlife party venue. The pool area is actually a giant indoor, climate controlled dome with a transparent roof that lets in the rays during the day hours. It is home to 1 master pool and several smaller Jacuzzi's.
Harrah's has allowed outside promoters to host parties/events at this location and it has become a very hot party spot for the younger club type of crowd in NJ. On several occasions, they have had celebrity hosted events by such people as Brett Michaels and Kim Kardashian. During the week, things are kind of quiet there except for their SINdustry Wednesdays where anyone in the Hospitality industry around A.C. is treated as VIP's.  The best times there have been when Djais (of Belmar NJ) has one of their events. Imagine approx 3,000 guys and, girls (mostly in their 20's) mingling around a dimly lit, poolside environment.  It's the closes thing you going to get to a Vegas party over here on the east coast.
NJROCKSTAR.COMÂ Â  has shot coverage there 2 times so far and at both events we had an awesome time.
Be sure to check it out. Big events pop up all of the time.
_NJrockstar Management