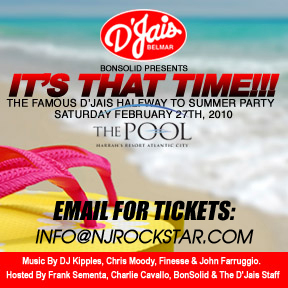 It's time again for D'Jais half way to summer party. Once again, it is being held at the Pool: Harrah's Resort & Casino in Atlantic City, NJ on Saturday February 27th 2010.
Like the Last Djais party at Harrah's, The NJRMG (njrockstar.com) is officially distributing the tickets for this event to help out D'Jais. We will hand delivering the tickets to you! Simply come and meet up with us any time between now and the day before the event. We are located in Union County, NJ (email us for directions). Tickets are being sold at face value of $35.
For those of you who were fortunate enough to get your tickets thru us last time know how convenient this process was.  We personally met up with hundreds of people in the weeks leading up to the event and hand delivered the tickets.  Really, what is better than that?
Well, by popular demand, we are doing it again!  To get your tickets, follow these 2 steps:
1: Send an email to: info@njrockstar.com
*You must include your first name, telephone number and amount of tickets that you need.  They are being sold at face value of $35.

2: We will call you back and arrange a day and time to meet up with you and hand over the tickets.
That's it!  It really is that simple.
*Don't wait until the last minute.  As most of you know, this event ALWAYS sells out and people end up struggling a day before the event trying to find tickets. Secure yours now while they are still available.
UPDATE: THURSDAY  2.25.2010 (7:00 PM), WE ARE NOW TOTALLY SOLD OUT AND FROM WHAT WE HAVE BEEN ADVISED, THE EVENT IS TOTALLY SOLD OUT AS WELL. WE THANK THOSE OF YOU WHO PURCHASED TICKETS FROM US. IT IS A NICE EXPERIENCE MEETING SOME OF OUR VISITORS ONCE AND A WHILE. IF YOU  STILL NEEDS TICKETS AT THIS POINT, THERE IS A REMOTE CHANCE THAT ONE OF OUR ASSOCIATES MY HAVE A FEW THAT BECOME AVAILABLE AT THE LAST MINUTE.  EMAIL US WITH ALL OF YOUR INFO, INCLUDING YOUR PHONE NUMBER, AND IF ANY TICKETS DO FREE UP, WE WILL CONTACT YOU ASAP AND YOU WOULD HAVE TO PICK THEM UP AT HARRAH'S ON SATURDAY AFTERNOON BEFORE 5PM IN THE LOBBY.

We hope that you enjoy the party. Be safe driving and be sure to check back here on Monday for all of the exclusive photo / video coverage!
-The NJRMG